Let`s admitted, the Street Triple bike is an amazing motorcycle and what is missing is the more sport behavior. On the other hand, we have the Speed Triple, which is absolute beast on the road.
On the chart below, you can see the newest Street Triple bikes, divided by different price, horse powers and different features.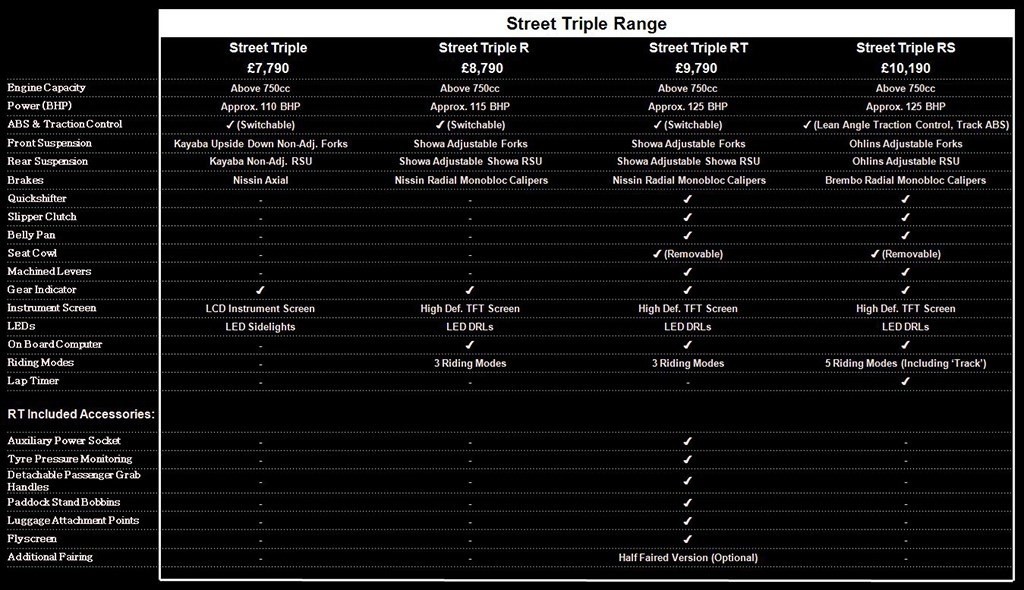 Triumph bikes are getting faster each year and in 2015 will wee a range between 110 – 125 horsepower (more than the Monster).
The "R" model becomes the middle-of-the-road option for less aggressive driving. Anyway, in all the models above there is no "slower one". It comes more to the personality of the biker and that`s why Triumph has offer few models with upgrades.
The top level model "RS" comes with:
Adjustable Ohlins suspension
Lean Angle Traction Control
Track ABS
Additional Riding Modes
It doesn`t matter which model of the Triumph Street Triple you will choose as you long as you don`t forget to gear yourself with the right Rayven Motorbike Clothing.